In 2003, Mr. and Mrs. Ronnie Taylor granted Section 29 in and around Cedar Key to the FNCC.  Section 29 refers to the historic land description of all of the historic area of Cedar Key.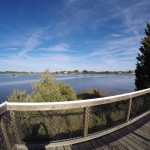 Today it is more than 400 acres of water and oyster bars and a few small islands.  The land and water can be seen on both sides of State Road 24 as one travels toward Cedar Key from the Number Four bridge.  The project is managed pursuant to a Memorandum of Understanding between the FNCC and the US Fish and Wildlife Service.  The basic purpose of the project is conservation and preservation.
In 2015 the FNCC renamed Section 29 to the "Earl M. Starnes Conservation Area" in honor of Earl Starnes, past President and emeritus member FNCC Board. Earl has long been a stalwart advocate for conservation and preservation of Florida's natural environment.
A little more history about FNCC and the Earl M. Starnes Conservation Area
by Earl Starnes
In 2003, Mr. and Mrs. Ronnie Taylor gifted a property composed of 450 acres in Section 29 to FNCC. This is property lies east of Kiss-me-quick across to Scale Key and west across to Cemetery Point. It does not include any of Cedar Key's original platted lands, but does include many oyster bars and small islands. The property is managed by the U.S. Fish and Wildlife service as part of Cedar Keys National Wildlife Refuge.