The FNCC developed this trail in Cedar Key and maintains it along with the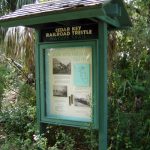 very welcome help of the City of Cedar Key.  The trail is located on Grove Street just off State Road 24 and is open to the public for daytime use.  The use is restricted to pedestrians only.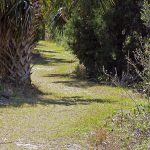 The trail's path is an easy walk (.o6 miles) beneath towering pines, beside aromatic cedars, and among dozens of varieties of native plants and wildflowers.  Each season brings a new vista of the trail, bringing an ever-changing host of wildlife.
Migratory songbirds stop to rest among the swaying grasses.  Butterflies dance atop the flowers.  Ospreys swoop and cry overhead as they hunt for fish in the quiet backwaters.  Ibis and rare roseate spoonbills dredge the shoreline for their morning feast.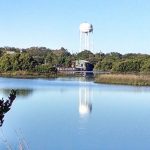 The native plants along the trail are identified with markers and a bit of history about each plant provided by FNCC board member Lovett Williams.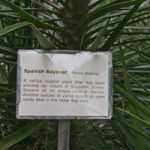 The City of Cedar Key also provides for public protection along the trail.  Cedar Key Development Company and now Nature's Landing Condominium Association have made the trail available to FNCC and the public.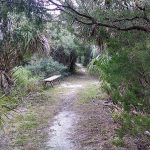 The area is perfect for a contemplative walk, and offers a multitude of opportunities for photographers and artists.  Birding enthusiasts will be thrilled by the number and variety of species that flock to this serene back marsh.
Railroad historians can tread the path of the old Fernandina to Cedar Key rail line, and look across the marsh to where the line once connected with the main shipping dock.  Some of the old trestle posts are still visible at the water's edge
A Brief History of the Old Rail Line
The first train arrived in Cedar Key on March 1, 1861 and brought with it a new era of prosperity to this island community.  Daily passenger and freight services from Fernandina Beach continued until the early 1880s when Henry Plant's railroad bypassed Cedar Key for the larger port of Tampa.  Service to the island gradually declined until the last train departed from Cedar Key on July 7, 1932.
The abandoned rail line was quickly reclaimed by native vegetation and wildlife.  When development mushroomed again in the late 1990s it became readily apparent that action was needed to preserve some of the pristine habitat areas.  The trail project became a viable solution to that need for preservation.  Not only did it create a habitat refuge, it also preserved a small piece of Cedar Key's history.